The School of Arts, Social Sciences, and Communications Host Constitution Day Event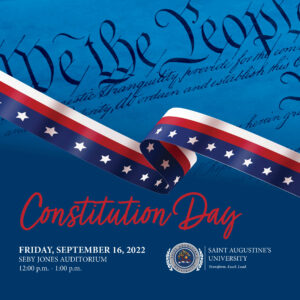 Constitution Day (now known as Constitution and Citizenship Day) is our opportunity to commemorate the signing of the U.S. Constitution, to reflect upon important issues surrounding the Constitution, and to celebrate those individuals who have become naturalized U.S. Citizens.
On Friday, September 16, the School of Arts, Social Sciences, and Communications acknowledged the importance of Constitution Day by examining the psychological, political, societal, and religious implications of the Dobbs v. Jackson Women's Health Organization (2022), which struck down a woman's Constitutional right to an abortion. Three students, Selia Mathers (Communications), Zakiya Freeman (Psychology), and Morgan Penny (Criminal Justice) participated as student panelists, alongside four faculty panelists, Mr. Colin Adams (Psychology), Dr. Dan Trigoboff (Communications), Dr. Jonathan Glenn (Criminal Justice), and Dr. Candance Laughinghouse (Religious Studies). Student Savannah Manns (Psychology) served as the moderator for the panel discussion. Dr. Marnie Arkenberg (Chair of Psychology and Social Sciences) was the lead coordinator for the event.